The health advisory map has moved from our website to the Department of Health and Welfare's (DHW) website. Please see the DHW's Recreational Water Health Advisories web page for more information about possible health effects and symptoms associated with cyanobacteria and the map showing the locations of Recreation Water Health Advisories.
The Idaho Department of Environmental Quality and the DHW each play a role in identifying, responding to, and monitoring cyanobacteria harmful algal blooms (HABs).
Our staff is responsible for sampling Idaho water bodies and analyzing water quality data to identify potential threats to people and pets, and we provide the sample results to DHW.
Visit the Idaho Department of Health and Welfare Recreational Water Health Advisories web page for information on active blooms, health advisories, and health information.
Potenial Bloom and Water Quality Sample Map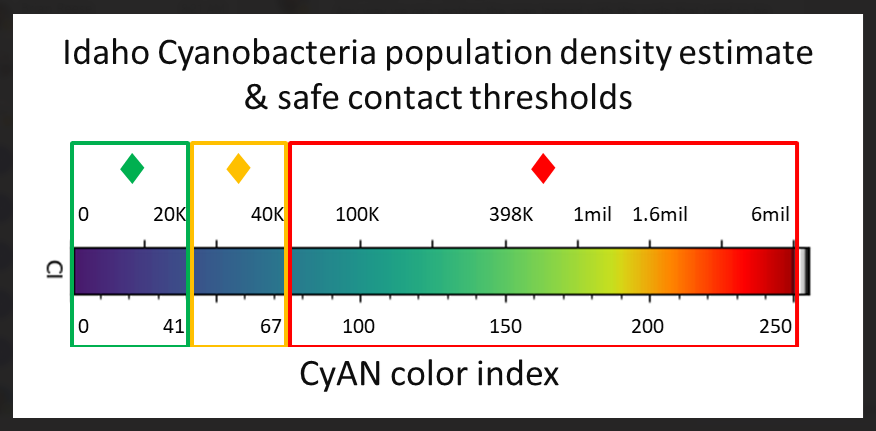 The map below displays the estimated abundance or number of cyanobacteria cells in large water bodies, based on calculations from the satellites. The map is a screening-level analysis tool. The Idaho Department of Health and Welfare will make health advisory decisions based on results from water quality samples. No regulatory decisions, or signage postings, should occur based solely on information from the map.
Satellite data allows our staff to monitor Idaho's lakes and reservoirs remotely and see an estimate of how many cyanobacteria are in the water. The data comes from NASA and European Space Agency satellites, and updates are usually received every 3 -4 days.
The black dots represent our water quality sample results. Click on the black dots to reveal the data.
Report a Potential Bloom
Report a Health Concern
Idaho's health agencies are responsible for educating and advising the public on cyanobacteria exposures.
Idaho's seven public health districts develop public health advisories, in consultation with DEQ, based on lab result analysis. The Idaho Department of Health and Welfare maintains a Harmful Algal Blooms FAQ page and Waterborne Illness page, which contain educational material and general information about potential illnesses from recreational waters and drinking water.
For information on health concerns and cyanobacteria, please contact the Idaho Department of Health and Welfare or your local public health district.
Report a Potential Cyanobacteria Harmful Algal Bloom
Use the link below to provide information about a potential cyanobacteria harmful algal bloom.
Health Effects
FAQs
This accordion will not appear on the screen