Idaho can potentially receive $17.3 million under the Volkswagen (VW) settlement to upgrade older vehicles and support projects that reduce air pollution. DEQ also receives federal funds through the Diesel Emissions Reduction Act (DERA) grant.
These funds are used to replace or retrofit eligible vehicles or equipment with new diesel engines, alternate fueled engines (e.g., propane, compressed natural gas), or all-electric engines that emit fewer pollutants. The funds can also support the installation of Electric Vehicle Supply Equipment (EVSE) at sites throughout Idaho. 
This accordion will not appear on the screen
2020 Funding Summary
DEQ has completed evaluations of the 2020 Vehicle Replacement Program (VRP) applications and will be funding 29 projects under the 2020 VRP, awarding $5.3 million in VW Settlement and Diesel Emission Reduction Act (DERA) grant funds that will support projects valued at $16.1 million, and replacing 75 vehicles throughout the state. 
The Electric Vehicle Supply Equipment (EVSE) program provides cost-shared funds for direct current fast charger equipment. ESVE stations located along highways and interstates will be prioritized to create a network of electric vehicle charging services for the public.
Application Process
Applicants should discuss the feasibility of building an electric charging station on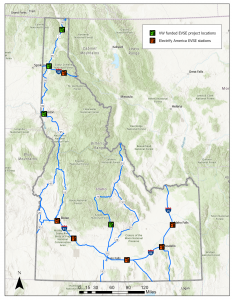 their property with their local electric utility. The following charging site attributes will be heavily considered:
Within 0.5 miles of major highway
All directional access
24-hour access
Well-lit
ADA accessible
Cell phone coverage for major carriers
Point-of-sale availability at or near the pump
Proximity to shopping or dining
Potential for future expansion
Has worked with utility to determine capacity of existing electrical service
All potential host site owners must submit an application to the Office of Energy and Mineral Resources (OEMR):
Emily Her
Idaho Office of Energy and Mineral Resources
P.O. Box 83720
Boise, ID 83720
Email: emily.her@oer.idaho.gov
OEMR, DEQ, and the Idaho Transportation Department will review the applications and contact those chosen for cost-share funding.
Applications will be accepted until all available funds are exhausted or a site near your location has been selected.
Electric Vehicle Supply Equipment Program application. This is an interactive and electronically fillable application; this is the preferred application for submission. Please right-click the application link and choose "Save link as." A "Save As" window will open allowing you to save this file to a location of your choosing on your computer.
If you have any difficulty downloading the application, please reach to reach out to Emily Her at emily.her@oer.idaho.gov.
View our EVSE – Awarded Projects Summary.
Send me an email when this page has been updated